It's time to break out the CanCooker or fire up the smoker for some slow-cooked venison, then turn that delicious meat into a fiesta!
One of the most fun things about hunting season is being in the kitchen with venison and trying some new dishes. Or, using the venison to give an old standby recipe a little bit of a twist. Burgers, chili and spaghetti, of course, often get a little venison love.
But how about trying this super Venison Burrito Supreme dish?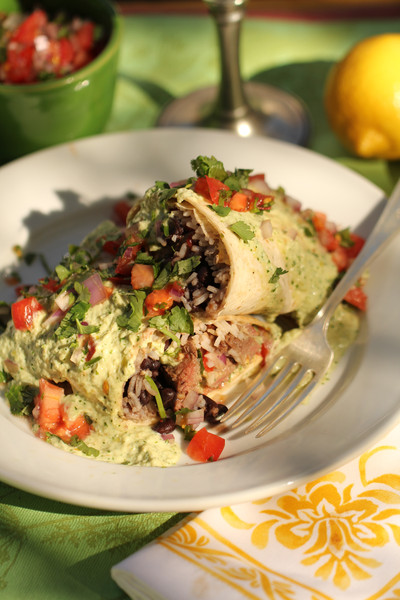 Stacy Harris, author of Happy Healthy Family, said her family chows down on these burritos just about as quickly as she can get them made! The great thing, too, is with the different ways folks love to make a burrito or taco, it's easy for the family to pitch in with prep work and cutting on this great cutting board. Then, put out everything and everyone can make their own.
Some of the items can be purchased pre-cut at your local grocery store, such as the onions and tomatoes. I don't mind buying the pre-cut onions, but I like to pick my own tomatoes and also some fresh cilantro. It doesn't take much cilantro, either, for a bit of a kick.
If you really want to have fun, take some ground venison, a bit of cream cheese and put a bit in some cored jalapenos. Then put them in this popper roasting rack on the grill or in the oven for a few minutes for great appetizers.
Or, get your kids to help out with the preparations and have them dice the onions, tomatoes and so on. Be sure to use good tortillas; we like to toss ours on a George Foreman grill or into the microwave on about 10 seconds to warm them before making our burritos. Enjoy!
— Alan Clemons, Southern Managing Editor
Venison Burrito Supreme
Ingredients:
4 tbsp. olive oil
4 garlic cloves
1 1/2 teaspoons red pepper flakes
1 can black beans (16-ounce)
Salt and Pepper to taste
1/2 cup chopped cilantro leaves
4 plum tomatoes, cored and chopped
1/2 red onion, minced
1 jalapeno chili, seeds removed, minced
1 tbsp. lime juice
1 lbs. venison hindquarter
4 flour tortillas (10 inch)
1 1/2 cups cooked rice
Ingredients for Tomatillo Sauce
1 onion, chopped
4 Tomatillos, finely chopped
1 jalapeno chili, seeded and chopped
 2 cloves garlic
1 tbsp. olive oil
1/2 cup sour cream
1/3 heavy cream
pinch salt
1 cup cilantro
Preparation:
Heat 2 tbsp. oil in large saucepan over medium-high heat until shimmering.  Add garlic and red pepper flakes for about 30 seconds.  Add beans, bring to a boil, then reduce it to a simmer for about 15 minutes.  Season with salt and pepper.
To make pico de gallo, combine 2 tbsp. cilantro, tomatoes, onion, jalapeno, and lime juice in medium bowl.  Season with salt and pepper.
Slice hindquarter venison in half horizontally.  Pound each half to about 3/4 inches thick.  Season liberally with salt and pepper.  Heat remaining oil in a large skillet over medium high heat until skillet is smoking hot.  Place venison in skillet for about 4 minutes on the first side, turn and cook the other side for 3 to 4 minutes.  Transfer to a cutting board, tent with foil, and let rest 5 minutes.
For Tomatillo Sauce, saute onion in olive oil.  Add tomatillos, chiles, and garlic  Saute gently.  Add the ingredients to a food processor.  Add sour cream and cilantro.  Process until smooth.  Add whipping cream and pulse until blended.
Slice steaks thin against grain.  Place tortillas on 4 plates and evenly divide rice, beans, venison, and pico de gallo among them.  Spoon tomatillo sauce on top.  Fold tortillas to form burritos.  Sprinkle remaining cilantro leaves on top and serve immediately.
ARE YOU HUNGRY? NEED A GREAT CHRISTMAS GIFT?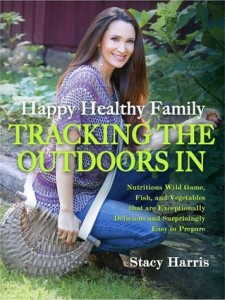 Start making Christmas plans now by ordering Happy Healthy Family by Stacy Harris of Alabama. She's married to a diehard deer hunting outdoorsman and he, along with their sons, bring in a variety of deer, turkey, waterfowl and fish during the seasons. Harris prepares it all, and in Happy Healthy Family she gives some of her insights about cooking along with fantastic recipes for meats, vegetables and desserts. It's a great cookbook to have in your kitchen or deer camp, and also makes a fantastic Christmas gift for anyone who enjoys cooking! Buy it here now!

For more great recipes and insights from Stacy Harris, be sure to visit her super site at GameandGarden.com