Whoa! You just found a big ol' venison roast in the back of your freezer and figured it's time to make space for something else.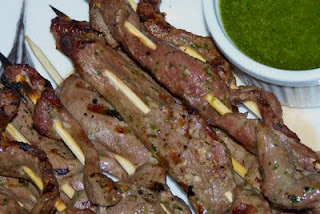 Summer's not a real "roast" time, though, is it? Even though you could find some great recipes to make with a roast and the family might love them, summer's more laid back. It's time for grilling and chilling with something cold to drink and a little music playing.
Our good pals over at Food for Hunters definitely scored recently with this outstanding recipe. Mix in some friends, a little walk on the beach, an easy recipe featuring venison with a tangy sauce … dang! That's a good Friday night right there.
Venison Skewers With Cilantro-Garlic Sauce
Ingredients:
– 3 lbs. venison roast, cut into 1-inch strips – 7 garlic cloves, peeled – 1 cup fresh parsley leaves – 1 cup fresh cilantro leaves – 3 tsp. Kosher salt – freshly ground black pepper – 2 tbs. lemon juice – 1 cup + 3 tbs. extra-virgin olive oil
– bamboo skewers  
Servings:
16 people as an appetizer
Prep time:
about 1 1/2 hrs
Cooking time:
6 minutes  
The Sauce
1. In a food processor, mince garlic. Set 1 tbs. aside.
2. Add parsley, cilantro, 1 tsp. salt and a few grinds of pepper into food processor. Pulse until chopped.
3. With the motor running, add lemon juice and 1 cup extra-virgin olive oil in a steady stream. If you're using a small machine, like we did, that's not a good idea. Just pulse, stop the machine, add some oil, then repeat.
4. Pour into bowl, cover and refrigerate.

The Meat
1. Trim off all silver-skin and fat from the venison. Remember, silver-skin and fat tastes nasty. It's what makes game meat taste "gamey."
2. Cut roast into 1-in strips.
3. In a big zip-lock bag, marinate the meat with the leftover minced garlic, 2 tsp. salt and 3 tbs. of the cilantro-garlic sauce you made. Seal and refrigerate for 1 hour.
4. Soak bamboo skewers in water for 30 minutes.
5. Once ready, thread the meat onto skewers.
6. Grill or broil skewers for 2-3 minutes on each side.
Watch the skewers and the time. Do not overcook the venison. It's not beef. Serve with the cilantro-garlic sauce and enjoy!
Want more?
Two other great options we recommend for venison and wild game include the cookbook  We Kill It We Grill It. It provides fun, easy and tasty grilling recipes from the folks who know venison best — Deer & Deer Hunting readers and contributors. This compilation highlights the favorite recipes of hundreds of cooks from all regions of the country. These are fast, easy, family-favorites you can produce on your own grill without a chef's pedigree.
We also recommend Gut It Cut It Cook It by Eric Fromm and Al Cambronne. There's just something satisfying about knowing you've done it all yourself — from pulling the trigger to washing up the dishes. Gut It Cut It Cook It guides you every step of the way from the field to the table. No detail is left out—from proper field dressing and butchering to storing and preparing your venison. It offers checklists and descriptions of tools you'll need to get the job done right and affordably; advice for shot placement and ammunition so you don't damage valuable meat; step-by-step photos and instructions for proper field dressing and skinning; butchering — cut by cut; best practices for wrapping and freezing venison; instructions for saving antlers and caping your buck and a BONUS CD includes 50 venison recipes, field dressing chart and meat cuts chart.