During a recent visit to central Wisconsin on business we had the chance to dine at a great place, Father Fats Public House, where the plates are small but the portions definitely are not.
Oh. My. Goodness.
I love to eat good food and can eat a lot of it. I probably wouldn't have blinked if anything on the entire Father Fats menu had been put in front of me. They change up the menu daily or almost daily, banking on whatever the freshest seafood, vegetables and meat is available to offer. The beverage list is super, with craft offerings from Journeyman Distillery, Central Waters, New Glarus, Sand Creek and a short but fine selection of white and red wine.
Quality, not quantity, is the rule at Father Fats. Bravo to them.
One dish our group enjoyed was Nueske's Bacon and Fresh Avocado Deviled Eggs. I know everyone has a favorite bacon, and I know bacon is the "it" thing. Or it was. Everyone got on the bacon kick a few years ago to the point where the saturation level kind of ruined it. I love bacon but my gosh, sticking a slice of fried bacon in a glass of whiskey or bourbon is a good way to ruin two great things.
In this case, though, the Nueske's bacon and fresh avocado teamed nicely. The flavor was good and it's an easy dish you can replicate. I asked Father Fats Chef Martha "Marti Party" Moser for the recipe and she said it was a snap.
After boiling her eggs and separating the yolks from the whites, she combines the yolks with fresh avocado and sour cream (equal parts of these two). After mashing into a smoothish consistency with still a few little chunks, she adds the fried and chopped Nueske's bacon. Moser said she also added garlic salt, and I'd imagine you could add salt and pepper to taste.
"Y'know, it's a little earth, a little flavor," she said. "I don't want to just put something in my mouth to chew on. I want to enjoy the experience."
These deviled eggs are easy to make. I whipped up a batch one afternoon and it was incredibly simple. I cut the slices of thick-cut bacon lengthwise and then diced before frying crisply, draining and setting aside. I used five avocados — that was about three too many — and the sour cream, yolks and half the juice of a fresh lemon. Then I added the bacon, mashed it all up well with a mashed potato smasher (you could use your hands, I guess), and put it in a resealable plastic bag. Then I snipped the corner and squirted the mixture into the egg halves.
Some I left plain, some I added a dash of salt and pepper, and on some I sprinkled some Tony Cachere's creole seasoning. They're tasty.
"That's kind of like green eggs and ham," my wife said before eating four of them. I had four. I had to quit. They're darn tasty. And you could do just about anything with them, like adding finely diced onions, pico, venison sausage …
Hmmm … venison sausage.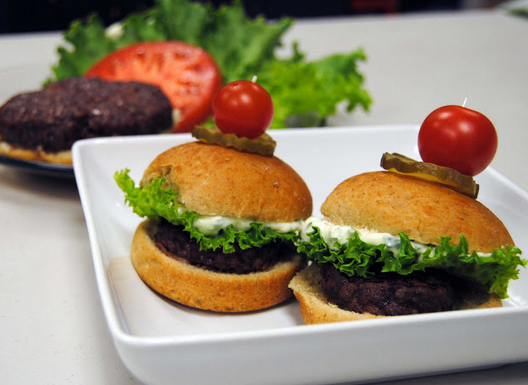 Give those deviled eggs a try with this great venison burger from Weston Supply:
Ingredients
3 lbs. venison
1 lb. bacon
3 cloves garlic, minced
2 shallots, minced
3 tablespoons fresh parsley
2 tablespoons worcestershire sauce
2 tablespoons olive oil
3 teaspoons black pepper
1 egg
Tools
Weston Flat Top Dial Scale
Meat Grinder by Weston
Weston Meat Lug or Meat Mixer
Weston Vacuum Sealer
Burger Press by Weston
Weston Patty Paper
Preheat oven to 400 degrees F. Weigh out your meats with a Weston Flat Top Dial Scale. Cube the venison into 1″ pieces, then grind with a Meat Grinder by Weston. We used the #8 Electric Meat Grinder & Sausage Stuffer. The meat texture for burgers should be fine, so grind it through once with the coarse grinding plate, once with the medium, and finally, once with the fine grinding plate.
Meanwhile, bake bacon strips for 10 minutes, crumble, and add to the ground venison. The bacon should still be somewhat raw so that it cooks fully once the burger is grilled. Mix together all of the ingredients in a Weston Meat Lug or use a Weston Meat Mixer if you're making this recipe in bulk. Put the mixture into a gallon sized Weston Vacuum Sealer Bag and seal with a Weston Vacuum Sealer. Refrigerate and let marinate for at least 6 hours.
Once marinated, open the package and press the meat mixture into burger patties with a Burger Press by Weston. This is a large recipe, so we used Weston Patty Paper to keep the extra patties separated during freezer storage. Grill to your preferred temperature.
Serve with your favorite burger condiments! We recommend arugula mayo (fresh chopped arugula mixed into mayo) on fresh whole wheat buns.
Don't miss another tasty recipe of the month where you'll find ideas on smoked meat, venison jerky, and so much more. Subscribe to Deer & Deer Hunting for monthly venison recipes, the best big buck stories, complete gear reviews, and exclusive whitetail deer hunting tips. Click here to subscribe.