Last week's Foodie Friday entry hit on some great venison skewers that work as super appetizers or, if you have enough venison, as the main dish.
Well, it's still a good time for grilling and our good friends at Food for Hunters had another kebab recipe they're sharing with you. This one may be a smidge more involved with the prep work but that's part of the fun of cooking, honestly.
Check out this great 7-piece wild game knife processing kit!
Rick and Jen say this kebab dish has a Turkish twist, and "are packed with tons of flavor – cumin, cilantro, red onion, and garlic … they will give your summer night dinners that extra kick. Coupled with a spicy Red Harissa Sauce borrowed from Bon Appetit's featured Chef Silvena Rowe, these kebabs are dynamite."
Son! That should make you want to fire up the grill right now, but they've also added shrimp in the recipe! A little surf 'n turf for a summer night!
Makes: About 14 kebabs
Ingredients:
– 1 1/4 lbs ground venison
– 2 tsp. kosher salt, divided
– 4 garlic cloves, minced
– 1 cup of red onion, coarsely grated
– 1/2 cup of fresh cilantro, chopped
– 1 tsp. ground cumin
– 1/2 tsp. crushed red pepper flakes
– 1/2 tsp. freshly ground black pepper
–  1 lb. shrimp, deveined, peeled and roughly chopped
– olive oil, for brushing
-extra wide Popsicle sticks
Red Harissa Sauce: makes 3 cups
– 3 large red bell peppers
– 2 1/2 tbs. white wine vinegar
– 4 garlic cloves, crushed
– 2 red jalepenos
– 1 tsp. ground cumin
– 1 tsp. kosher salt, plus extra to taste
– 1/4 tsp. freshly ground black pepper, plus extra to taste
– 1/4 cup extra-virgin olive oil
I. Red Harissa Sauce
1. Roast the red bell peppers directly over a gas flame, turning occasionally to get them charred all over. Roasting peppers really helps to release flavors, and gives a smoky taste.
2. Transfer to a large bowl, cover and let stand for 15 minutes.  This will steam the peppers and make them easier to peel.
3. With a knife, scrape off the skin. Remove the stems and seeds.
4. Seed and chop the jalapenos. Crush the garlic.
5. Except the extra-virgin olive oil, put all the other ingredients in a food processor. Puree until very smooth.
With the machine still running, slowly add in the oil. Salt and pepper to taste.
* Store in fridge until ready to use. Freeze extra.
II. The Kebabs
1. In a large bowl, combine peeled, deveined and chopped shrimp and ground venison.
2. Using mortar and pestle, or anything you can find, further crush the minced garlic and 1 tsp. of kosher salt together into a paste. I just did the best I could with my knife.
3. Add the garlic paste, remaining 1 tsp. of kosher salt, onion, cilantro, cumin, pepper flakes, black pepper to the venison and shrimp. Combine well.
4. Press the mixture onto popsicle sticks. Try not to overload. The meat may be too heavy and fall off. It can be a little tricky, since ground venison doesn't have much fat in it, but with some finessing, it will work. You just have to be extra careful.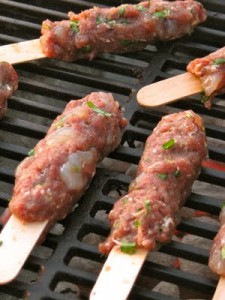 5. Prepare your grill. For a charcoal grill use a medium-hot fire. If you're using a gas grill, use high heat and don't walk away.
6. Brush kebabs with olive oil and place on grill. Grill until nicely charred and just cooked through. About 6 minutes each side.
7. Serve hot with Red Harissa Sauce. We suggest having this dish with couscous and Greek salad. Enjoy!
Want more?
Two other great options we recommend for venison and wild game include the cookbook  We Kill It We Grill It. It provides fun, easy and tasty grilling recipes from the folks who know venison best — Deer & Deer Hunting readers and contributors. This compilation highlights the favorite recipes of hundreds of cooks from all regions of the country. These are fast, easy, family-favorites you can produce on your own grill without a chef's pedigree.
We also recommend Gut It Cut It Cook It by Eric Fromm and Al Cambronne. There's just something satisfying about knowing you've done it all yourself — from pulling the trigger to washing up the dishes. Gut It Cut It Cook It guides you every
step of the way from the field to the table. No detail is left out—from proper field dressing and butchering to storing and preparing your venison. It offers checklists and descriptions of tools you'll need to get the job done right and affordably; advice for shot placement and ammunition so you don't damage valuable meat; step-by-step photos and instructions for proper field dressing and skinning; butchering — cut by cut; best practices for wrapping and freezing venison; instructions for saving antlers and caping your buck and a BONUS CD includes 50 venison recipes, field dressing chart and meat cuts chart.