You're the best bleater out there. In the words of Christian Bale, "Good for you!" But your seductive bleat calls are worthless if a deer can spot you hanging out in the tree or down in the brush pile. All hunters have to stay hidden from a species that is accustomed to watching for humans, and bowhunters have a shorter range to shoot than a rifle or shotgun, which makes disguise even more important for a successful hunt.
Here are six of 12 cheap and easy-to-implement tips for blending into your surroundings this hunting season. Tune in next week for Part 2 of How to Camouflage Yourself for Hunting.
1. Flashbacks of first grade finger painting
Ever see those guys at camp that slop three layers of camo paint on their faces? I wonder what their butts looks like. Seriously, people itch and scratch their face and then other parts, and surely that mess of colors ends up on other parts of your body too. Hear this: Don't take a bath in camo paint. It's a dusting, a brush, a finger stroke of paint – not a Picasso-slather of browns and greens like you're frosting a cake. I have yet to find the perfect pair of hunting gloves for bow season, so for me it's a few lines of camo colors across the back of my hand and down each finger.
2. Cover your face with strings and cams
Since deer don't see colors the way we do, the key to staying invisible is to break up your outline. Stalking into the woods or sitting in my treestand, I use my bow to camouflage my face, especially when I see a deer approaching. The lines of the bow string and frame break up any human outline of my face or body. Plus, you're already carrying your bow out into the field so make it as multipurpose as possible. Many times over I've disguised myself this way from a deer stomping and snorting in my direction.
3. Walk like God gave you 4 legs
Deer walk softly, with uneven steps, sometimes taking a 1-3-2 step pattern, stopping and scanning, advancing slowly, stopping, then trotting off, and dispersing their weight over a larger area than us bipeds. It's time to start thinking and acting like your game – and occasionally practice quadrupedalism when walking in and out of your treestand. Learn more enter-exit treestand strategies on my blog.
4. White cloth sports tape your way to winter camouflage
I love snow camo so much that I wear it on walks with the dog and when I go skiing. A quick and inexpensive way to change your East Coast fall gear into winter-white gear is to use white cloth sports tape on your calls, weapons and binos. It has a matte finish and leaves no residue so it can easily be removed when the season ends, or if you hunt a different territory. If you want to get real hillbilly-ish like I do sometimes, take a permanent marker and draw squiggly lines down a few areas of the white tape to resemble branches and brush to further break up your outline.
5. Sound check yourself before you riggety-wreck yourself
You're probably using much of the same gear you used last year, but maybe you bought a new jacket or rangefinder? Pause the excitement on your latest purchase and shake the "schnit" out of that new gear for clinks and clanks. I started using the new safety harness from Hunter Safety System which has metal buckles that connect at your inner seam – strong, safe and secure. But, if you walk through the woods with them connected, each step will sound like freshman band practice between your thighs. Leave them hanging until you get to your stand and you'll have random clanks of metal to let the deer know you are coming.
My advice? Cover them with fabric tape or elastic bands, or feed the tether straps and clips into your pants pockets as you walk. If you dress at your stand as I do, you still want to cover the metal connectors to reduce noise as you arm-carry your harness into the woods, get suited up at the base of your stand, and eliminate any metal-against-metal as you climb your ladder and sit down in your metal seat.
6. Diamonds are not a girl's best friend – during hunting season
Jewelry, like a big diamond ring or watch, is beautiful – in the off-season. You're not going to do yourself any favors when you take off your gloves to shoot and shine some flashy bling in the sunshine to illuminate your latitude/longitude to a deer. I keep my jewelry to a minimum.
Tune in next week for Part 2 of How to Camouflage Yourself for Hunting. Until then, hit me up on Facebook or tweet me @McClainTweets.
Nicole is connected with brands and foundations like Pink Arrow Project, Lumenok, CAMX Crossbows, Deer & Deer Hunting Magazine, 20th Century Fox, Fight Like a Girl!, J.C. Penney, TGI Fridays, Kellogg's, Coldwater Creek, Susan G. Komen, U.S. Elite, Pickle Press Comics, Grange Insurance, and CamoTrading.com.
Check out more of Nicole on Deer & Deer Hunting:
Read Nicole's Expanded "I'm A Deer Hunter" Feature Now For More Insights!
Watch Nicole on Deer Talk Now!
Take a Look at Nicole's Photo Gallery!
Pull Mature Bucks in Close With Get Two Great Calls – One Great Price!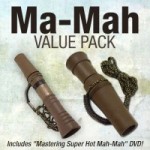 We've put together two of the hottest whitetail deer calls into one great package to help you fill your freezers this fall. The Ma-Mah Value Pack includes the Super Hot Ma-Mah and the new Lost Fawn Ma-Mah – two great calls that appeal to a deer's social behavior.
BONUS: As an added bonus, you get an instructional DVD, Mastering the Super Hot Ma-Mah, which will show you exactly how to use the Super Hot Ma-Mah to your maximum advantage!