So I have had inquires about what I plan to do with this prototype tower blind and is I would be willing to part with it. The answer is yes but you have to get past the helpers I had making it. Here is Joe guarding the stand. He wont let anybody near it. He is guarding it now with the rifle I posted earlier and has set up his own "occupy" camp.
He only lets his other friend Joe near the stand. Both are ex-military and have bad attitudes. I thought the photo of the rifle in the blind would have tipped some folks off since it has two triggers (the second one being for the grenade launcher)
Plus they have this huge guard dog named Roscoe patrolling the perimeter.
They are all jacked up on Soda in massive quantities.
If you haven't figured it out by now, this is a 3/16 scale prototype model that I built to help me address all the design concerns ahead of time rather than after spending much $$$ on treated wood when I build the real stands. Here is one of my "Scale" 2 by 4's on a real 2 by 4.
Here are the scale sized nails I used.
Here is Joe taking a break after helping test the stand.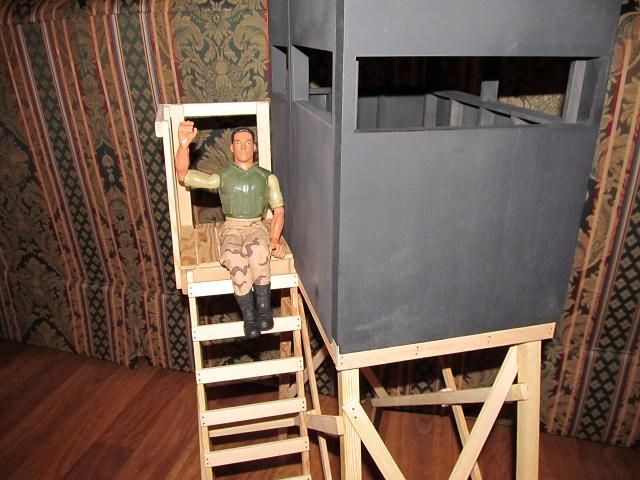 The lumber I cut and stacked for that first photo was all cut on my table saw. The banding on that stack of 2 by 4's is just a thin strip of black electrical tape I cut with a razor.