I've moved the stand deck out to the back patio because I need the room to build the larger parts of the stand. I leveled it up because when I poured the back patio I used a lot of slope for good drainage. Eventually I will bring all the walls out here as well and give them a test run before shipping the stand to its permanent home. I would rather discover surprises in the shop than out in the woods.
I painted the exposed edges even though the door threshold will cover this area and the OSB on the door will protect it. I just figured it was better safe than sorry with melting snow.
Then I framed up both of the sides of the base and marked the pieces and disassembled them.
If you go all the way back to the beginning of this project you will see I had intended to use a ladder to get into the stand. Since this stand will be used by hunters in their 80's as well as little kids. I went back to the drawing board (literally) and designed a very easy to climb set of stairs. The cost and time went up a bit but will make for a better and safer climb. While the plan does not show it I will be adding more vert railing on both the hand rail and the deck rail.
I don't know what it is about treated lumber but finding 2, 12 foot long 2 x 8's meant sorting through a lot of warped and twisted junk to get two that were usable.
It was a fun rainy Sunday project. Its going to take more than a couple guys to raise and position this staircase. Its pretty heavy.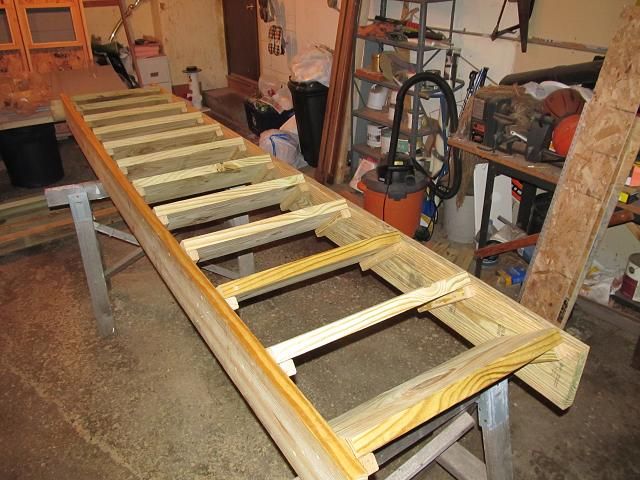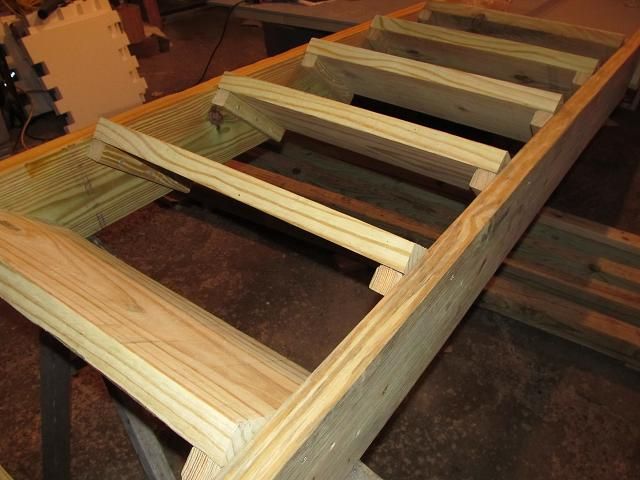 Now I need to get back to making all the sliding plexiglass windows for the rest of the blind.