Mine?
Hmmm. I've got a bunch. There's this one:
The Savage Spoke
. . . and 4 years later, I repeated the process with an even bigger one:
The Savage Spoke Again
However, if you're looking for the hands-down best, it'd probably be my pursuit of Spike the WonderBuck.
Putting it All Together
2001 was my first year shooting reloads. I've got a new farm, a new stand, I've got my new loads too. I'd worked all the way from January to September getting it just right. Prior to finding the farm, I'd been thinking about a combination deer/boar trip out to the Texas Hill Country, and settled on 165 Grain Hornady SP's over IMR 4895 loaded into Remington 30-06 brass left from my first boar hunt in 1984. This load was equally accurate in my Winchester Mod 70 and my Remmie 742.
Thirty minutes into the Opener, a nice deer I had come to name Spike, the Wonder Buck came up the trail. I took the Winchester Mod 70 and got it set on his boiler room and . . . "Click." Spike walked off. Spike wasn't a spike. He was just a little 6 pointer that had been bugging me all through bow season. I named him Spike, because he was feisty and tenacious with the ladies– been chasing them since October.
Spike had gotten wise to me early in October and started showing up at my stand at the most inopportune times. He had an uncanny sense that allowed him to pick the one direction off the stand that I could not get a bow. He had an annoying sense of timing– showing up just as I was getting up for my mid-morning stretch. He also could slip in on my blind side and start eating acorns under my tree so that I would not notice him until it was too late.
Spike got wise to me, and I decided that a change of stand was in order. I knew which way he was coming, so on the last weekend before season I put my climber on a new tree 80 yards further back on the trail.
There he had been, at 30 yards dead-on in the crosshairs, and I'd had a primer fail on me. Drat. At the time, I blamed the rifle, but I cycled the next round when I got back to the house and got a satisfying bang. I tried the round that had Spike's name written on it, and it was a dud. I tried another round and got another bang.
In 10 years I haven't had another dud. It was just one bad primer out of hundreds. In fact, I went out on Sunday morning and bagged a nice fat doe with one out of the same batch out of my Remington 742.
Spike? He got a one -week reprieve.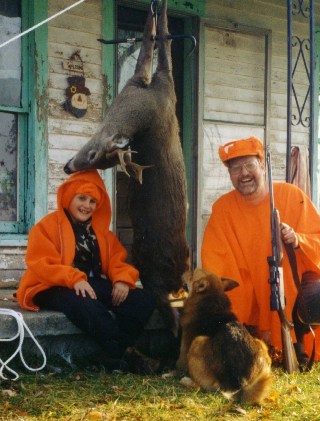 The next Saturday, I was back in my buddy stand with Mooseboy age 9. This was his first time hunting with me in the stand. We got to witness an awesome once-in-a-lifetime meteor shower that was still visible as the sun was rising. About a half hour later, a herd of doe came tromping through with Spike taking up the rear!
"It's a buck!" hissed Mooseboy.
"I'm taking him." I said. I brought the Remington 742 up. Spike made the mistake of following the doe a little to closely, down the hill. I caught him in the brisket at 10 yards. Spike's rack was the the first to go up on the wall. I dumped the powder out of that one bum round and it sits on my bench now as the reference I use for calibrating my '06 die. We looked for the ejected brass, but it went into a sticker bush.
In the end I could not complain . I got my first buck at the farm with my first batch of reloads and had my son get to see it all being done.
Since that day, I have not taken a deer with a factory load, nor have I had a misfire, nor have I had to substantially change the load I fired that morning. It has been through 4 deer rifles including Mooseboy's M1 Garand. I keep swearing I'm going to go to a 150 grain bullet to get a little velocity, but I just never seem to get around to that project.