Well...I hunted with my daughter Ellie this weekend...desperately trying to help her harvest her first deer. We rushed out after school thurs. and fri. to get an hour of hunting in...and saw deer...but nothing remotely in range. Saturday morning we saw nothing...and then some friends helped put a drive on for her...nothing.

So Saturday night I thought if the river was frozen enough, we would walk across it, and hunt this double ladder stand covering a creek crossing. I went first...and made it about 3/4 of the way across the river when it gave up under my enornous weight. So I rushed back home and switched out of my wet clothes, and we went to the old faithful "killing tree" by my house. We were in stand about 45 minutes when I saw a deer walking through the neighbors timber. it was a nice buck. He stopped about 20yds. from the edge and stood there for a good 20 minutes not moving a muscle. I finally figured out what he was looking at when I saw three does in my backyard to the east of us. The does starting walkin our direction when I noticed a big buck was following them. They got within 35-40 yds...but were facing us, so no shot opportunity. Ellie got to see him hit a scrape, and then him and the three does started headin north of us down the other side of a hedge row. Well, this was all the big buck in the timber needed to see. he came trotting out after them down a path in front of us about 50 yds. I stopped him...and Ellie missed. She was a wreck. she was shakin' prettry bad...and was pretty worked up. (I have to say I was too...lol) She had rushed the shot and pulled it (she didn't squeeze it off). Although as time goes on, she really wishes she could do it over...she wasn't that disappointed at the time. she was so excited...and enjoyed the experience, and that rush of adrenaline...it made sitting out in the cold and wind worth every hour of agony. That would have been a great first deer...that is for sure.

...The deer she shot at is one I have been after for a couple of months...I have a picture of him standing by a ladder stand in my backyard.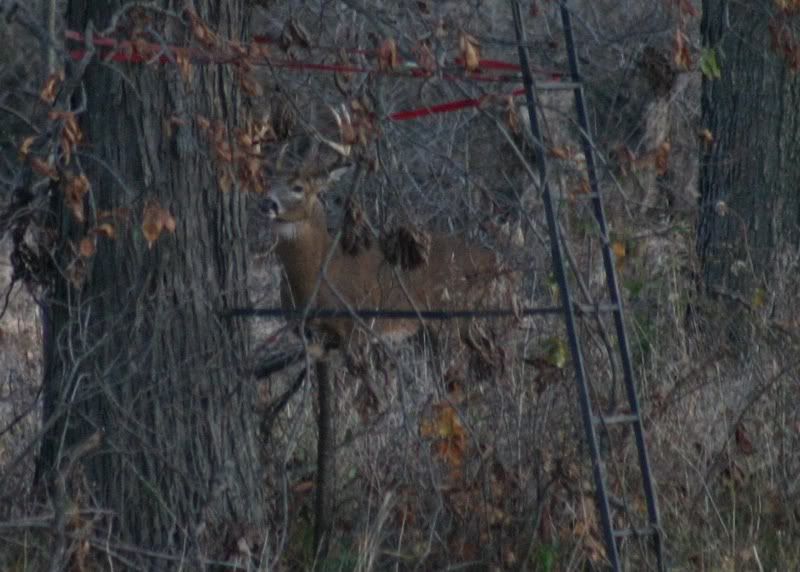 She still has bow tags (if the weather ever get warmer) and she can go out during the late season antlerless hunt...so there is still hope for this season. But whatever happens...she has had an incredible encounter...and experience...and I am so glad I was able to share that with her.