The 2012 Wisconsin Bowhunters Association convention/sports show is now in the books and It was a great one. Thank you to all that attended. After a snow free winter, it's a shame we ended up with a snowstorm in parts of the state on Friday and Saturday but there is nothing anybody can do about the weather. Even with the foul weather we had a fantastic turn out. The convention was held at the Stevens Point Holiday Inn Convention center.
If anybody had travel problems due to mechanical and snow problems it was our Keynote Speaker, Jay Gregory of Wild Outdoors TV fame. He was a good sport and ended up driving through the snow when flying was no longer an option. He ended up renting a car and driving through the night and arrived at 6:00 am on Saturday morning.
Friday night setup was great with most of the vendors able to make it. Some were turned back by the weather and came early Saturday morning to setup but all was set in time for the convention attendees. A special thank you goes out to Mike Fuge, Tony Carpenter and the other bowhunters of Portage County that organized and supplied a hospitality room. I know the vendors and travelers enjoyed the refreshments and hospitality. Thanks to all who made it possible.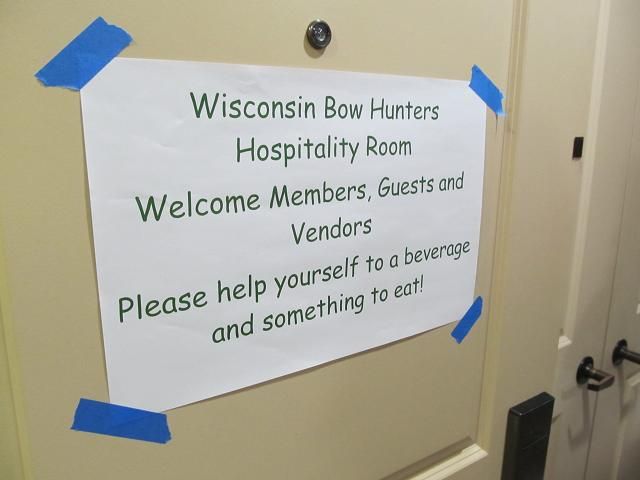 More snow came Saturday morning but people still traveled from far and wide to attend. I wish I would have been able to visit all the seminar speakers to take a photo but there was just too many things to get done. I did get to peek into Jay Gregory's seminar for a picture.
I also got a chance to pop into the youth archery ally. I learned that more than 50 youth took part in the kicking bear youth event.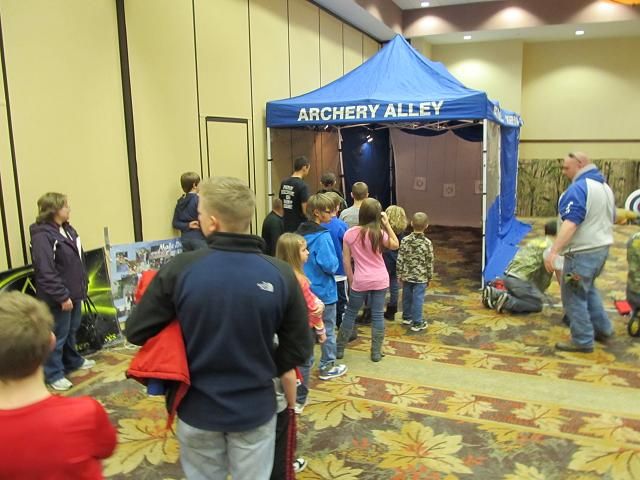 There were lots of raffles and prizes to be won including this ATV that was raffled off on Sunday morning.
Another thank you goes out to all the people that brought in their archery kills to display and a special thank you to Mike from Trophy Game Tags for the outstanding promotion he did. Here are a few of the mounts on display. Reember that one luck WBH gets drawn to win a $500 gift card from Gander Mountain. Remember that next year. Bring your mounts and get in on the action.
The vendor hall was very well received. There were lots of great Wisconsin Companies and organizations on display. Thank you to all the vendors that braved the weather. Your presence made the show interesting and entertaining for everybody. Here are a few shots from within the vendor hall.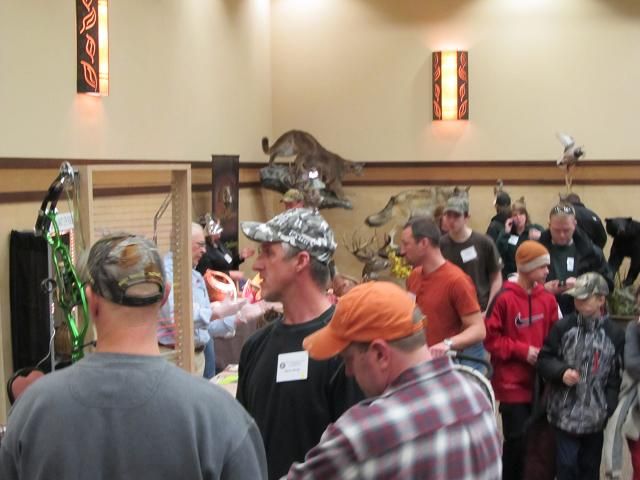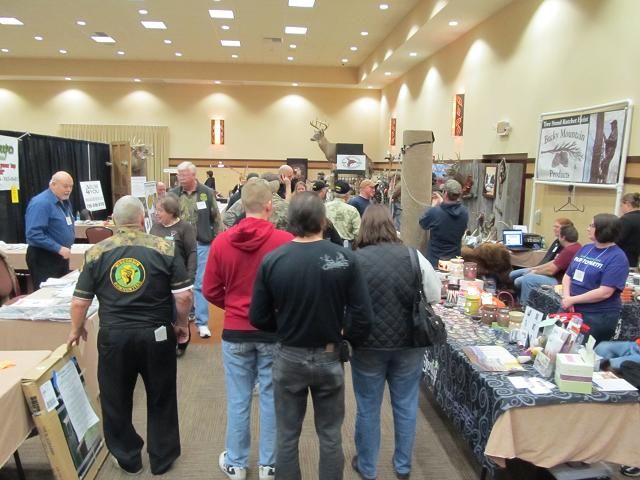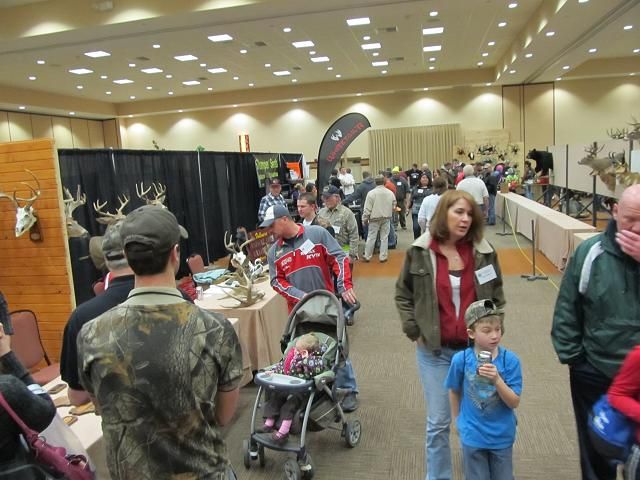 I don't think the Giraffe was harvested in Wisconsin but I'll bet that would be a fun archery hunt.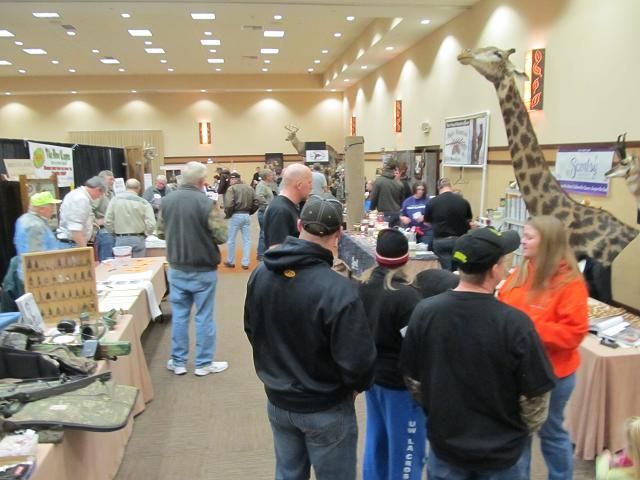 On Saturday evening we moved from the vendor hall to the "cocktail hour" prior to the awards banquet. It was great to see everybody enjoying themselves. Then it was off to the banquet hall for dinner, awards, more raffles and our keynote speaker.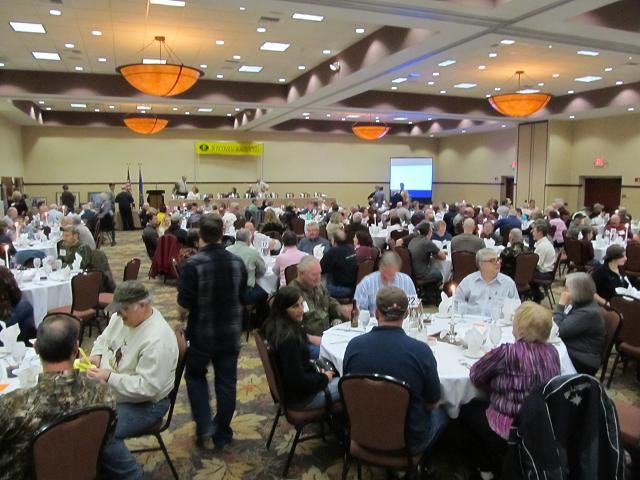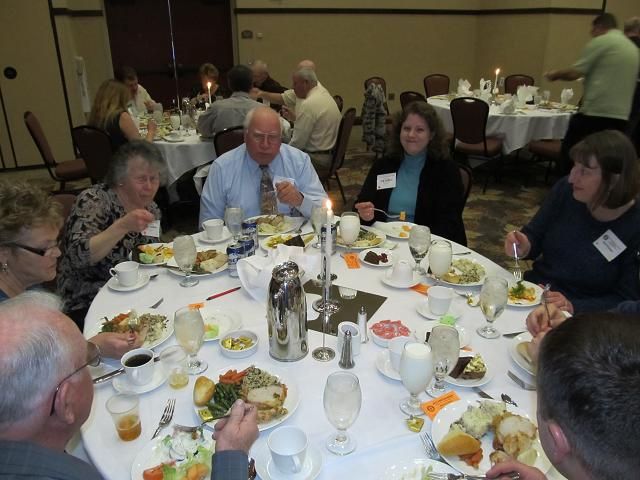 Jay Gregory was very entertaining with stories and videos from his TV career.
After the awards banquet there was a meet-n-greet with plenty of refreshments on hand and lots of midnight oil to be burned.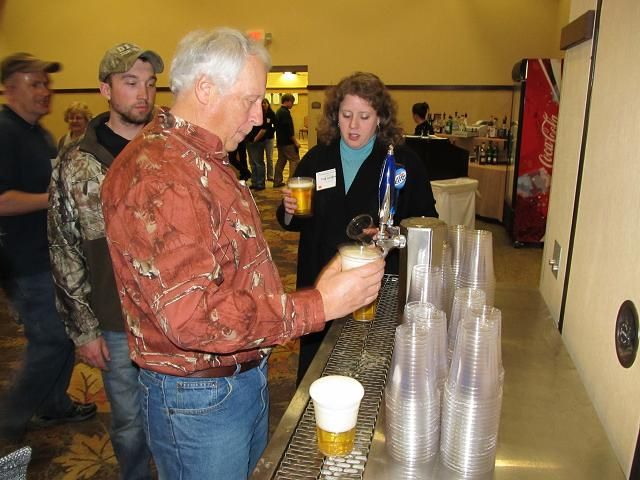 On Sunday morning, WBH members gathered for the annual meeting of members to elect officers, Discuss business and draw for many raffle prizes. The weekend was a great success. Much of the weekend was open to the public and the public turned out in great numbers. I hope everybody had a good time. We are already preparing for next year's convention and plan to make it bigger and better. Soon we will be announcing the location of the 2013 WBH convention and sports show. Thank you to everybody that made the weekend a success.