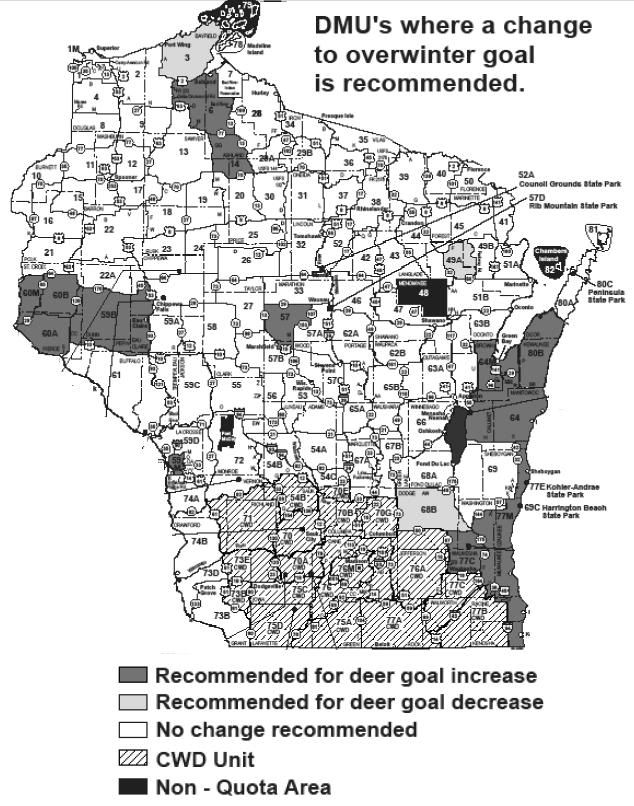 The last time I updated you on goal setting was after I attended the deer committee meeting where 18 (of 131) units saw a goal change. 5 were goal reductions and 13 were increases. Now the Wildlife management team has had their chance at goal setting and have sent their recommendations to the Secretary for approval. That was on June 4th and we were asked not to make the numbers public until it went to the NRB. That time has now come and the changes are now public.
There are now 16 changes. 3 goal reductions and 13 increases that break down as follows. (all numbers are in deer per square mile of range totals)
Unit 3 goes from 16 to 15
Unit 6 goes from 12 to 15
Unit 14 goes from 14 to 18
Unit 49A goes from 25 to 20
Unit 57 goes from 22 to 25
Unit 59B goes from 15 to 20
Unit 59M goes from 10 to 15
Unit 60A goes from 20 to 25
Unit 60B goes from 20 to 25
Unit 60M goes from 10 to 15
Unit 64 goes from 20 to 25
Unit 64M goes from 10 to 15
Unit 68B goes from 30 to 25
Unit 77C goes from 15 to 20
Unit 77M goes from 10 to 15
Unit 80B goes from 20 to 25
I have attached a map since most folks don't know where all the units are in the state.
They now go to the NRB and then public hearings in July/August. Then it's back to the NRB in Sept to finalize. It then goes to the Legislature who has 120 days to review/comment/change. After that, the goals are set for a period of 3 years, starting in 2010.
The net result of these changes means a statewide increase in the overwinter population of 11,574 deer which raises the state wide over winter goal to roughly 749,000.
(Note* per DNR estimates, we have successfully over wintered in excess of 1 million deer in 10 of the last 14 years, including last year)
While this is a step in the right direction and certainly a result of an incredible amount of hunter involvement, it falls short of what many had hoped for in the 115 units that saw no change and is the exact opposite of what hunters wanted in the 3 units that saw a decrease.
For the complete text, I have provided link to the summary.
http://www.dnr.state.wi.us/org/nrboard/2009/June/06-09-3B16.pdf