Every year I bowhunt I try something new to keep my interest up and for an added challenge. When it comes to gun deer hunting I just cant get excited. It was once again exciting when my boys got old enough to hunt years ago but this year, my youngest was not able to make it for opening weekend. (He will be with us Thurs through Sunday though. )
Last week I called my sister and told her that I wanted her boys to come hunting and that they can hunt with me. Their Dad does not hunt (He didn't come along this year as he had to work) In the past her two boys would sit by my parent's house and watch over the field around the house but the field was already disked under and manure spread so their usual (lousy) spot was going to be even less likely to produce any sighting.
Because my youngest was not with me and because I have enough ladder stands, I wanted to set the boys up this year. The youngest has not shot a deer (he is 15) The oldest has shot a doe and buck in the past. (he is 17) I told them they can shoot whatever makes them happy.
Likewise my oldest son was along and I told him the same thing. He has passed on deer in the past and has not killed a deer in a couple years. Finally gun deer hunting was challenging and exciting again knowing I had 3 young guys that I wanted to put onto deer.
We got our cell phone numbers exchanged and the texting rules established Friday night. I told them to aim for a spot high in the front shoulder as that would break the spine and shoulders and drop the deer in its tracks.
I got them up at 5:00 on opening day, got ready and drove to the woods. We dropped off my son at his stand and I took the two nephews with me. Here they are ready to walk into the woods with all sorts of hope.
I dropped off the older boy at my usual bow stand and then I walked the younger one to my son's stand in the cedar swamp along the river. Rather than hunting in my normal gun stand, I told them I would take up another stand deep into the woods. Actually I only walked about 80 yards from the 15 year old and stood next to a tree directly behind him so I could keep an eye on him. It wasn't long that I wished I had a bucket or stump to sit on.
I watched the woods for deer and kept an eye on the young hunter who could not sit still. Either he was cold or just not ready to sit still in a deer stand in the woods after sitting overlooking a field as he had done in the past. I saw a few doe filter through the woods but none headed his way. At 10:00 am, my son texted me that he had a young doe near his stand. He was videoing her with his new cell phone. As we went to bed Friday night he said that he would like to shoot a deer this year after shooting nothing the last few years and that he would like to take some deer meat back to the house he and his 4 college friends are renting in Green Bay. He wants to grill some meat for his buddies. I texted back "Shoot" He replied, "are you sure, it a young one?" I replied, "Shoot" .
About a minute later His 30-06 barked 250 yards to the East. My phone rang a moment later and my son said it was down but that he left his knife and string in the car. I told him I would gather up the nephews (who had sat longer than either of them had ever sat in their short hunting careers and who were no-doubt shivering.) After gathering up the two cold hunters and hearing of deer seen and shot opportunities missed we went to get the deer out of the woods. I let the boys have the full experience so I could take pictures. The shot blew through both shoulders and dropped the deer where it stood.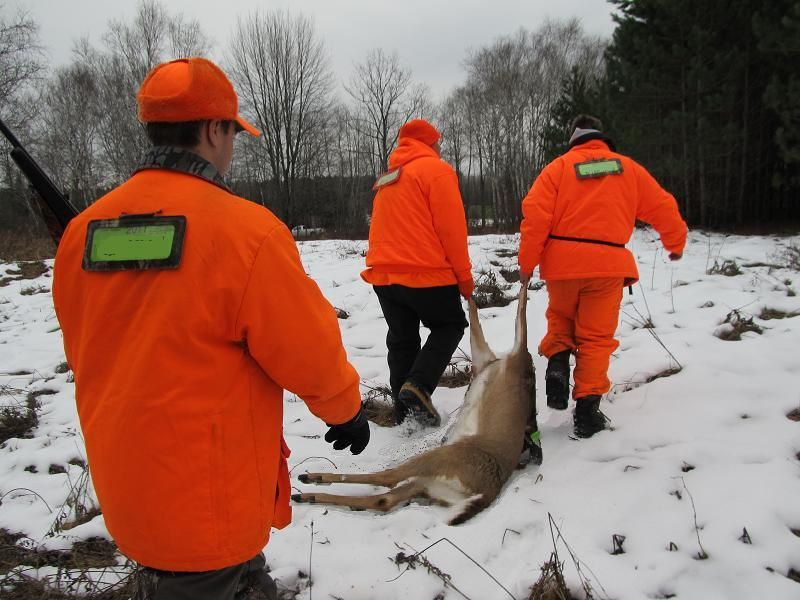 We took the doe back to the farm for gutting, hanging and a quick bite to eat and a bit of a warm up and were back in the woods by 1:00. Again, the 3 were in their same stands and I was on watch behind the youngest as a light drizzle came down. By 3:00 it was a light rain. I was not enjoying the weather and expected that any minute one of the three would text me suggesting that we call it a day but that call never came.
As it began to get dark I was spending more time watching the woods than the young hunter so I was startled out of my boots when his 36-06 roared so close to me. I snapped my head around to see deer running. I pulled the phone out of my pocket and didn't have to wait long. I told him I would be there as soon as I could get there from my stand. I stood there for a while and watched him stand up and sit down and stand up and look at the deer through the scope and then sit down again. He was stoked.
When I got to him he was pretty excited. He told of 4 deer. He shot the last one as it was the biggest and he was not kidding. I think this is the biggest and oldest doe I have seen in many many years. He had hit the deer at 40 yards right in the shoulders and dropped here where she stood. It was still raining when I called his brother to come help with the full "Experience" so I could take pictures and so I could sling all the guns over my back along with their coats as they began to peel off layers from overheating.
The older nephew had watched a doe that afternoon but opted not to shoot. My son saw no deer. We headed back to the farm and I gutted the doe with the help of the young hunter to show him how to do it. By then other deer were beginning to arrive from the other hunters. I got to hear my nephew tell his doe story over and over to the old timers.
On Sunday morning I took my son and the older nephew back out (the young lad that killed the big doe was not very motivated and opted to stay in bed) Both boys were in the same stands they used opening day and I sat in my youngest sons stand (where the big doe was shot the day before) so I could be near the nephew rather than sitting in my box stand overlooking the back of the picked corn field. At 6:45 I heard running and crashing behind me and looked to see a doe trotting. Less than a minute later I heard "erp erp" and the crunching of crusty snow and frozen leaves. The small half racked buck followed the trail of the doe as he passed by at 30 yards. I wished the younger nephew would have been in the stand.
The doe and buck crossed the river and she led him towards the corn field and of sight. At 7:15 I heard the older nephew shoot a single shot. Not long after, the cell phone was buzzing. He called to tell me he just shot a buck out in the corn field. I asked if it was down. He reported that it fell in its tracks. I told him to sit tight as it was too early to get down and that the deer wasn't going anywhere.
At 9:30 I got a text from a cousin on the north end of the 80 acre corn field asking why I didn't shoot the big buck that crossed the field and entered the woods right by my stand. I replied that I was not in my gun stand and that I was with my nephew. When we spoke later, he was semi annoyed as he would have tried a long distance shot if he would have known that I was not in my gun stand. He held his shot expecting me to shoot. He said it was a dandy.
At 10:00 I walked out to my nephew who was about ready to bust a seam waiting to see his buck. He made a great shot through an opening in the trees at about 100 yards. He shot through both front shoulders and the deer fell without taking a step.
We loaded the buck up and took it back to the farm for gutting. I instructed as I took pictures. He did a good job. Then we hung the buck and even got Grandpa to pose for a picture with the three young hunters.
Then it was off to the registration station as my sister and her boys had to head home and my son had to head back to Green Bay and I home to meet a few deadlines. I make no apologies for the picture taken in the back of the truck.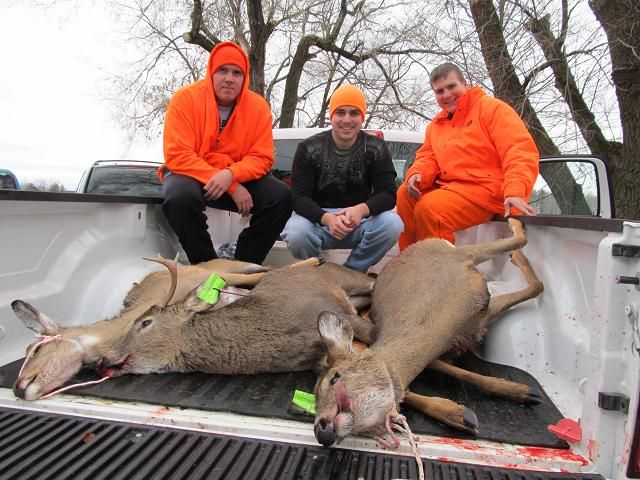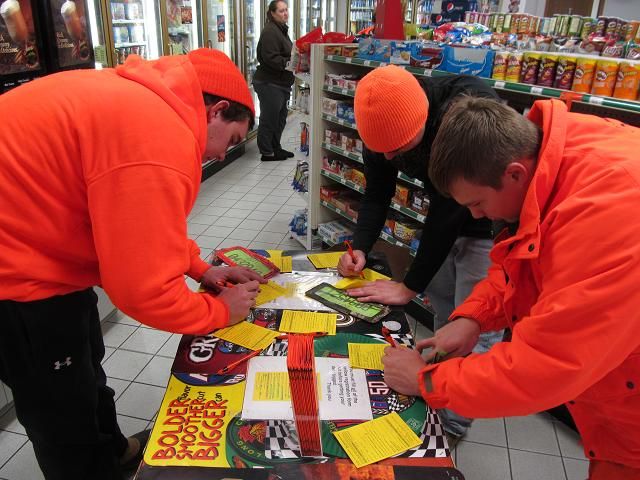 It was a great weekend. Here are a few other youngsters in our group that scored opening day. The 11 year old has had a pretty good year. He got a magnum doe opening weekend with his bow and a nice buck during the youth hunt and now his mom tagged this 17 inch 9 pointer.
The other 11 year old got his first buck with his grandpa (who's buck can be seen in the truck). This was one of the most enjoyable opening weekends I can remember. I set out to help some young hunters get deer and it worked out well.