I got up this morning at 4:30 am. Last night I
finally
had the opportunity to pre-pack everything before 9 p.m. For me that is a rarity with 2 young'ins.
We had a cold front move through about 2 days ago so the temp dipped way down into the upper 60's, definitely a well needed break.
I arrived at the property at 5:55, a little later then I wanted. I had the 2 bucks on my trail cam typically showing up around 10 ish; I was hoping to be in stand a solid 2 hours + before shooting hours. I missed it by a bit. However a plus this opening day: due to the cool weather I was able to sneak through the woods and up into my stand while breaking just a small sweat.
This was my first time hunting this stand. I was given access by the landowner approximately 4 weeks ago or so to this part of the ranch. I had to scramble to scout, set up a stand, etc before opening today.
I caught the two bucks in velvet (approx 4 weeks ago) and decided to target the 7 pt. With the rut not until late January/february I figured he'd grow a tad more: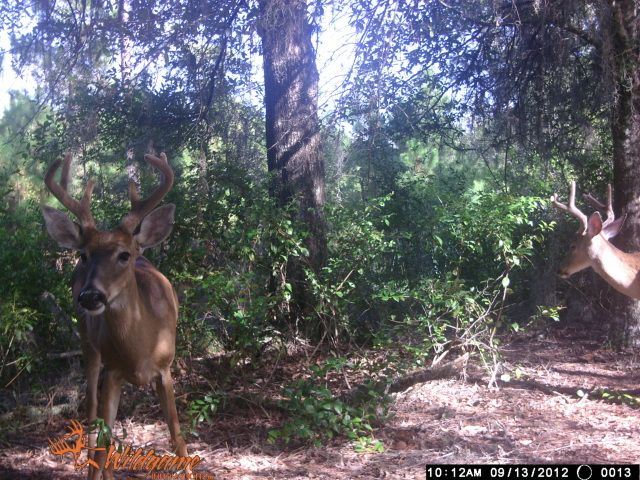 The morning was uneventful, sans a deer blowing me around 7:30. I couldn't figure how I was downwind, not moving, and some deer from over 50 yards away in thick brush pegs me, starts blowing and informs the whole woods of my presence. I was a tad disheartened at that time. I'm thinking, here I am in a new stand, quite fresh, and took every possible scent control steps I know..........and still get busted!!!
Well it is what it is. I have another stand that was more desirable for the upcoming 15KT wind chamge in a few hours, but said to myself "No Bo, these guys show up like clockwork, stick it out." so I did
Around 8:40 a doe shows up out of nowhere.
It will never cease to amaze me how you can scan the woods over an over, look one direction, then the next, look back and WAMMO a deer is in front of you!
I happen to drop an apple slice I was eating in the dark and for some reason, she was very uncomfortable seeing this on the ground, and slid away the way she came. I was really becoming disenchanted by this point. A deer blows me, a doe freaks about an apple slice.......what next???
The next 2+ hours were tough. It was slowly approaching 85 degrees (low humidity though) and I was thinking....nothing will move in this heat.But, My method for hunting the 11-3 timeframe stuck in the back of my mind, so I said to myself, "stick it out it will work out".
The area I am hunting is thick brush with an approx 20 yard x 30 yard opening in front of me. To my rear is a large clearing that the farmer uses to access his cattle, farm etc. All my pics, knowledge etc told me the deer would stay and walk through from the thick stuff.
11:15 rolls around and I am begging for a hog to come buy..........something! I happen to turn around and check out the clearing behind me ....just because.
Wouldn't you know it, the area I have no shot, no expectations for a deer to come from............he does. And its two of them. From the wide-open clearing a 5 pt being tailed by another deer I can't make out. I'm pretty confident that these are the two from the pic above, but due to the landowner (6 pt minimum) I have to wait to see. YES!. Its the 5 being trailed by the 7.
And of course.................the 5 walks BEHIND my tree..........inches from it. I had not expected that. He crept through and stopped at the base. And he perked up! I said .................what??? He didn't snort, blow or stomp..........but he bolted.....fast.......about 50 yards downwind. The only thing I thought that could have done that to him was he smelled my urine from less than an hour earlier. I don't believe he thought it was human, but a more dominant buck. He just looked around from his new vantage point apparently no longer spooked.
The 7 point opted to bolt back upwind. I was now torn. Take a 40 yard shot into the wind in a very small window risking blowing my location ( I was set now to shoot behind my tree to the left, he was now away from me to my right)........or wait him out????!?!?!
I waited.
The 5 point slid into the woods, and the 7 turned around and started moving back toward the base of my tree following the path the 5 took (whew). When he was shielded, I drew my bow back and waited for him to walk into the narrow kill window of brush/branches. I had to let him walk into this window, but not too far or else he'd get wind of what the other buck smelled. Finally he made it, I stopped him and let the Rage 2 fly!!!!!!!!!!!!!!!
It appeared to be perfect. He was so close (24' down and 5 yards from the base of my tree) as soon as I released the arrow, it appeared like he was hit very well. Blood exploded out his side!! He bolted back the way he came, I watched and listened..........and heard him crash in the palm fronds out of view 40 yards away!!.
I opted to wait still about 30 minutes, taking my time to pack up, assess the shot/area etc:
Tons of blood at the site.......and the arrow was broken. It was a clean through and through ....but of course I started second guessing.........was it too near his neck????
I put the track on him and saw great blood............confident now he bled out.
And I found him about 40 yards away.
http://smg.photobucket.com/albums/v53/bo444444/Deer%20Hunting/?action=view&current=2012fldeer010.mp4
(sounds like a commercial for Rage I know(plus I was excited as always,......but those arrow heads consistently amaze me with their abilities)
Decent opening day archery buck
Here is the inside view of the Rage:
His heart:
The arrow enterred his chest cavity on the upper right, and exited out in his left armpit and stuck in the ground. I think what happened was when I shot, he squated, the arrow went through stuck in the ground and when he bolted he snapped it.
After a difficult 2011........I'm very pleased at the start of this season!!!