We have gracefully left shotgun loading behind and are jointly loading Big Bore Nitro Express of the future in .620" and .730" cal.! ! !
Old is Gold!!!
" Old is Gold " the old theory still goes, accuracy from a
Big Bore Nitro Expess
is still a function of two things
1. A good gas seal.
2. Centering the slug in the bore with a snug fit through out the barrel.
Achieve those two and you can shoot as well as many rifles, indeed!
Since efficiency and accuracy is our prime goal, we need all components to Rhyme with one another and work together hand in hands, each component giving help and support to the next component in line for success.
Saboted Slugs are far more aerodynamic, because they are encased in a bore-filling sabot, that are designed to fall-away the instant the bullet leaves the muzzle, which allows the shotgun to shoot a much more efficient projectile and take full advantage of Kinetic energy of a smaller projectile travelling at hyper speed.
Mr. Roy Weatherby had found that out early on and had created his line of Weatherby rifles based on this very theory!
1. Choose your components wisely to custom tailor your loads for efficiency!
Firing a 2 3/4 shell in a 3 inch chamber will cause your wad column, Slug / Sabot to jump the gap and things do go wrong at times, whereas the 3 inch shell will transfer the payload more smoothly into the barrel, think about it, don't compromise, after putting in all the efforts to help achieve your load efficiency!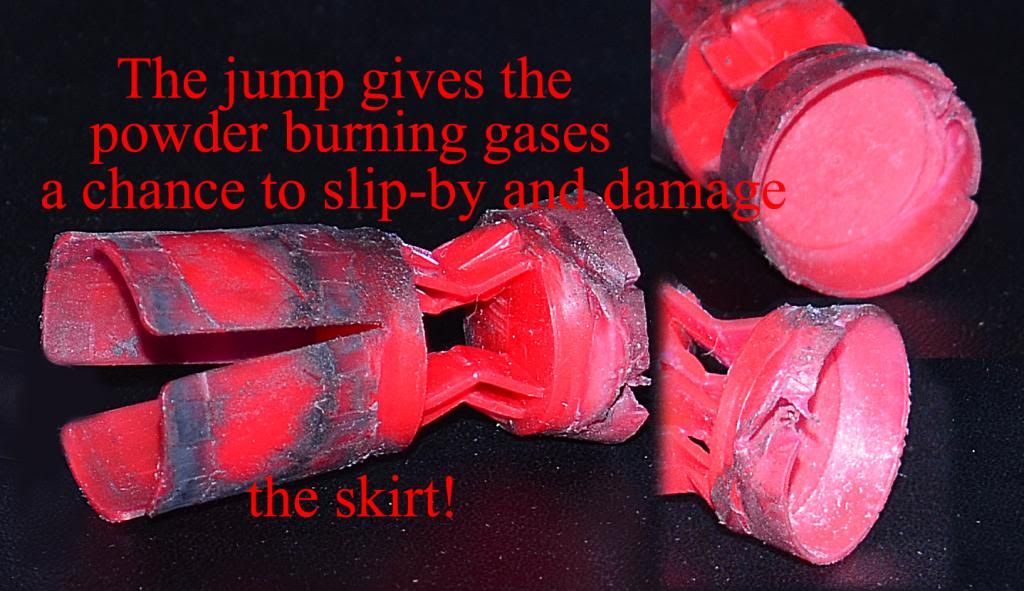 2. We need good quality straight walled hulls that are made strong enough to SAAMI specification's but will show pressure sign's after a certain pressure level is reached for safety!
3. Very important to know that certain powders require a Magnum Primer like Alliant Steel for example, needs a Fed.209A or CCI.209M!
Stick with only top name brand primer's that are made to SAAMI specification's like Fed. 209, CCI 209, Win. 209 and Fio.616 only for regular primer's for our slug / sabot loads.
Avoid primer's that will pierce easily under normal hunting slug loads.
4. Very important, your OP wad must form a good barrier between the powder gases and the rest of your wad column, therefore we were forced to re-design our OP & OP-1 wad and if your gun has longer forcing cone all the more important for sealing powder gases!

There goes your load efficiency down the drain:
5. Let's give it some solid support, add a stronger darker nitro card to transmit the driving forces evenly, when ever possible try to incorporate a .250" nitro card in between.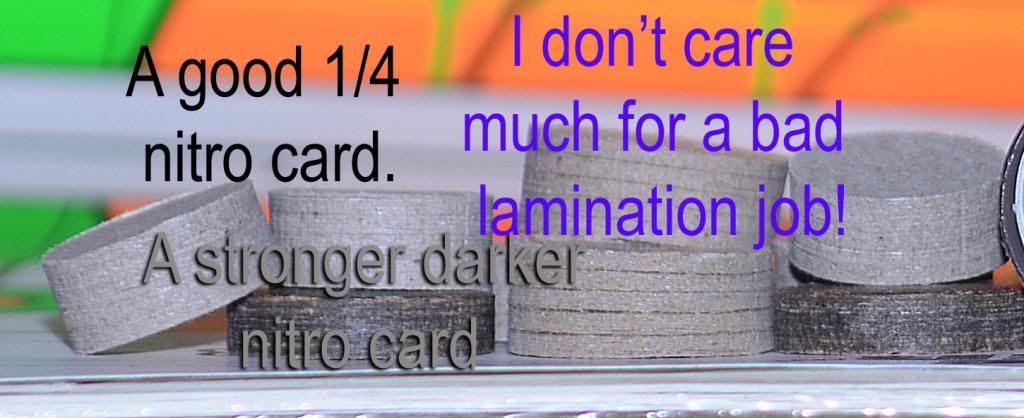 6. When ever possible try adding a good Felt wad of 1/4, 3/8 or 1/2 inch to help reduce the felt recoil!
I really love the darker felt fiber wads, as they are made well and perform great, but are almost 2 1/2 to 3 time more costlier when compared to the cheaper felt wads from Circle Fly on the right!

7. Top your Felt wad with a stronger darker nitro card, is like giving it a solid foundation to transmit the driving forces evenly and help support the Sabot from below to keep plasma gas blow-by from melting the Sabots!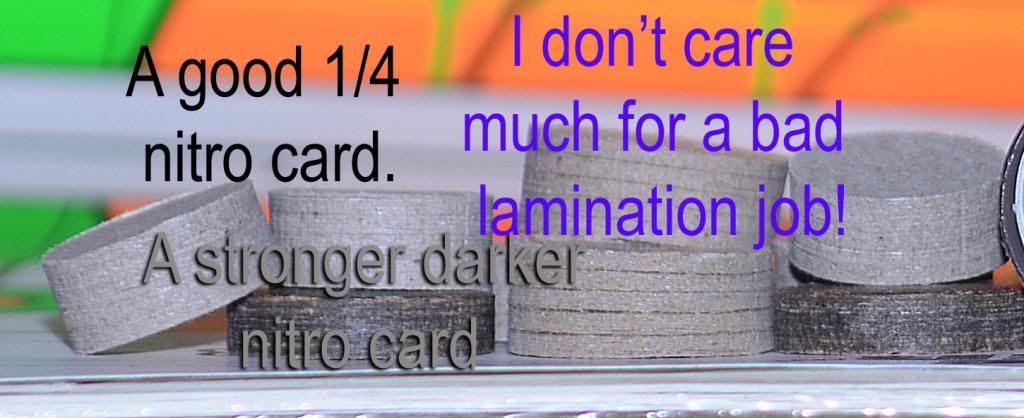 8. Your Sabots with the proper bullet should be a real tight fit in your rifled barrel and a properly designed sabot should not tag along for a free piggy back ride, instead should release the bullet immediately and drop off in the first 10 to 25 yard line and not any further!
*****When it comes to smooth bore then your slug in wad needs to be a snug fit enough to require 6 to 10 lbs pressure to push it through with a wooden dowel and if any more then your pressure's are sure to be high!
Watch out for your safety comes first!

9. It is very important that you seat the slug all the way home, use 30 to 60 lbs wad pressure to ensure that.
10. Trying to load faster loads with soft lead projectiles often creates a yet another problem. When the sabot and bullet are suddenly hit in the rear by all of the pressure created by a super magnum charge, an all-lead bullet not only obturates more freely than a copper jacketed bullet, it also tends to bell slightly at the base causing the sabot sleeves to sheer.
Try using a harder alloys for casting your slugs for use in Sabots, this way you reduce any chances of distortion at setback when fired allowing the slug to maintain its shape
!
11. A fold crimp will further enhance ignition as the pressures are known to be much higher with fold crimp, you also need a bit less powder this way!
Whenever I do not have enough hull space to fold crimp, that's when I'll Roll crimp, because I have no choice!
The big manufacturing firms love to Roll crimp their slugs and Sabots, they have a big advantage as they can afford to custom make all components to work hand in hand with one another, we on the other hand are trying to mix and match components hoping they will some how fit ! ! !
12. A clean cut rifling will engage the Slug / Sabot far better and impart the required spin for stability in flight for a greater gyroscopic stability that are harder to knock of course, and thus produce massive centrifugal force to help release the bullet instantly from the sabot.
13. Here is a major problem with loading and shooting heavy loads, the barrel starts to heat up quickly, the faster that barrel becomes "hot."
You start getting the fliers!
Once inside a hot barrel, your shell plastic material and sabot becomes softer and less resilient, the longer it is left in the bore. And when it does, it also becomes more prone to being "blown" by the higher pressures generated by these hotter loads.
"Under ideal hunting situation all you fire is one shot, in some cases may be two the most.
Does it not make sense to do all your slug testing from a cold barrel and fire two shots to see how well your gun holds the accuracy under ideal hunting situation!
When testing Slugs or Sabots, two to three shot group is all you need and pause between shots to let the barrel cool down a bit!
When testing loads, if you find that the first couple of shots out of your gun print relatively close to one another, and the third suddenly jumps from the first two, there is more than a good chance that you've just experienced " sabot failure."
14. Most loads are more accurate when you tone them down by 2 to 3 gr below Max, and the recoil is easy to digest and won't kick like a mule, that will help you shoot better!
Primer identification
Fed.209A magnum = Silver-Gold
Fed.209 regular = All Gold
Fiocchi 616 regular = All Silver
CCI- 209M magnum = Orangish-Gold
When loading for our Nitro Express, we are not looking to save or compromise and want the very best in loading and not reloading!!

Have the knowledge and exposure to " push the loading envelope" to the Max!
"Knowledge is a treasure, but practice is the key to it"
"Patience, persistence and perspiration make an unbeatable combination for success."
EXPERIENCE IS WHAT U GET, WHEN U DON'T GET WHAT U WANT!
Failure is the opportunity to begin again more intelligently!
Hoping it will help some of my Elite Musketeer Slug Shooter's Family members.
Best regards,
Ajay
VdoMemories