Headed out Sunday to a report of 5-10kt, 1'ers.
Braving the elements, we met at dawn and headed out the pass, first stop bait.
Hit the marker, 2 throws and blacked out the well with 3-4" sardines.
One more stop for some runners (hit the cans for the runners, but they were too large for me).
First stop 100' (approx 32 miles) to an old shrimp boat.
Planned on warming up with some AJ and then head for some RG(red grouper).
Hit the wreck, threw a handful of sardines out and the water boiled, the donkeys were home. I threw a sardine on my hook, it hit the water and in short order, it was on ice. (notice the brutal sea conditions we dealt with)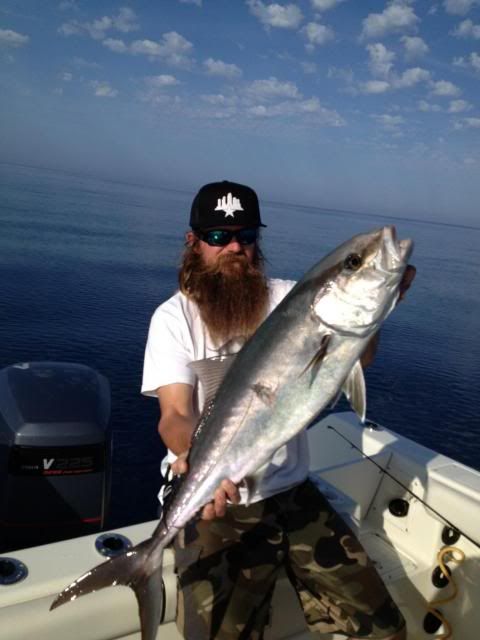 Not me but my buddy Ri
We had triple hook-up in 2 minutes. Fortunately they were all short.
So we did another drift, caught another keeper.
1/2 way to our limit, I said, guys, lets anchor up current off the wreck, play with these a bit, see if we can pull something off the bottom.
Anchored up, got a chum slick going, and we played for a spell to get our limit of AJ. Then, the BIG boys showed up; HUGE
HUGE
jewfish. The largest I have ever seen in my life. We all saw it and thought it was a juvenile whale shark (not kidding), it came right up near the boat and chased one of our small 32" AJ across the surface. It was an amazing site. Those fish can move.
With a school of AJ off the stern, a limit of AJ, we dropped to the bottom to try our luck (figured the jewfish were where full by now from us feeding them
) with the denizens at the bottom; but, nothing other than a few jewfish stealing our catch before we had 3 cranks.
However, all the scent and action brought the mango's up from the bottom, schoolin' with the AJ.
We changed our tackle, dropped to 20# flouro, 2/0 hooks and 3" threadfins.
It was like YT'n in the keys but for mango. We were having to yank the threads away from the AJ, kind of comical actually. Something I did notice, snapper, while outsized by AJ, are VERY aggressive towards the AJ. Even if the snapper didn't want to eat the bait, they'd run the larger AJ off it.
Anyways, for the next hour or so we worked the starboard box full, and started on the port. I have NEVER caught a mess of Mango like this. The smallest was 14". The majority were in the 17"-20" range. Man it was good times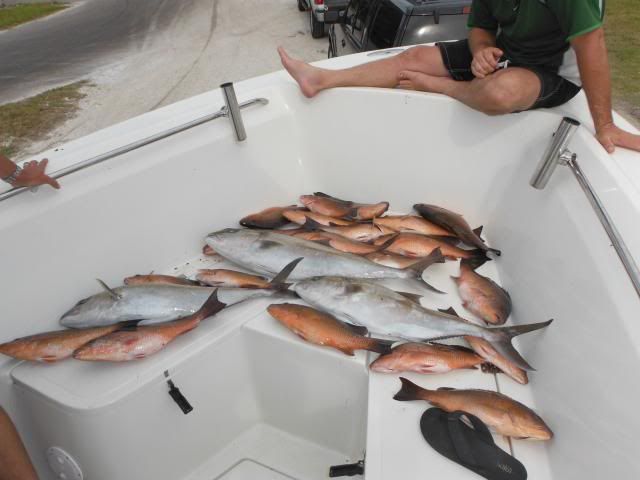 We had our limits fairly early, hit some cheese bottom for the RG.......nothing doing. Went to a couple pipeline numbers to try, caught some shorts, and threw back three slob keeper gags(out of season til July 1), wrapped it up and headed home.
Biggest downside was seeing this beauty go up in flames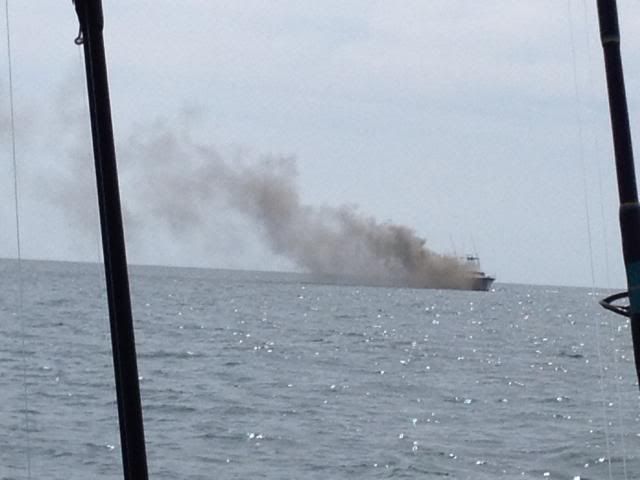 Looked to be a 45 Hatteras. We were 3rd boat on scene, and it was pouring grey smoke, all souls were safe. We watched for 15 minutes (it was burning at least 15 min before that) and heard the CG verifying directions etc etc.
Last we saw was it started on the thick, black smoke (gel coat prolly).