I say turkey.
An Associated Press news article on NBC--New York (
Vulture Crashes Thru Minivan, Maims Woman

[size="2"][/size]
) says that a turkey vulture crashed through the window of a vehicle. Story specifically said "Turkey vultures, which are not related to turkeys, generally soar in circles on wind currents and are often seen on highway shoulders eating road kill." Here's the picture. It's not a vulture. It's a hen turkey.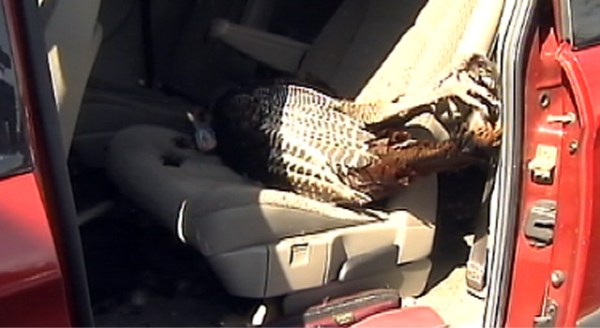 Here's a turkey vulture (pretty easy to tell the difference -- no stripes on his wings):
When the news media gets easy stuff like this wrong, it makes you wonder what else they get wrong. Of course, the reporter was likely just taking the word of the police in misidentifying the feathered friend. People responding with comments did even worse, calling it a pheasant, a red tail hawk. Especially entertaining was this comment: "I think the birds are becoming confused or disoriented due to the changes in sunspots, the earths magnetic field, and/or the wobbling of the magnetic poles. The fact that it could shatter an auto windshield is a disconcerting discovery as it reveals a possible deficiency in our vehicles which needs to be remedied." OK. Let's recall all vehicles -- upgrade to bird-proof windshields.
Here's the best comment: "It looks just like one of the hundreds of turkeys I've killed."
Steve