Wide Open Wednesday is one of our most popular days on Deer Talk Now because that's when you're the star of the show.
We enjoy "WOW" shows because your questions take the stage about how to hunt deer, and they're good ones. How to hunt a specific area, when to go into a field or woods, questions about scent, bows, guns and more. It's always fun and interesting.
On this show, too, we'll have a few tips on packing a cooler to keep your items cold when you head out to the beach or deer camp.
+++
Get This Great Cooler/Dry Box and You'll Be Set!
Whether you're going to the beach on vacation, relaxing at the fishin' hole or sweating your butt off in summer at a deer camp work day, this Engel Cooler/Dry Box will be a great benefit.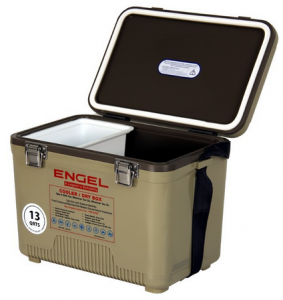 Three sizes are available and they all come with these great features:
Quality injection molding and high-grade molded polystyrene foam insulation keeps your food and drinks cold
Air-tight EVA gasket seals the entire lid
Carrying is comfortable with recessed ergonomic carry handles and an integrated shoulder strap
Stays shut with stainless steel latches and fittings secured with stainless steel screws
No foul smells, thanks to stain and odor resistant surfaces
Easy to clean with a non-absorbent surface
Compact and lightweight
Self-stopping hinge
Includes a convenient hanging accessory tray
These make fantastic Father's Day gifts, too. Get one early and surprise someone!