Come along with 19 average guys as we work hard for our bucks — just like you do! We hunt hard, with a never-ending passion and we will show you how anyone can manage, track and harvest mature bucks with limited resources and a normal work schedule. We are cops, salesmen, IT managers and construction workers. Our common thread is hunting mature bucks, and we want you to join along. Come along and see what happens as we pour our hearts and souls into this deer season Work'n Class style. >> Read the deer hunting adventures of the Work'n Class Whitetails
Aaron Volkmar
I grew up in the Midwest — from 5th grade on, I lived in Green Bay, Wis… better known as "Heaven on Earth." I've been hunting since I was very young, starting with my dad before I could even hunt myself. I've been very blessed to meet a lot of awesome people in the industry and have the opportunity to take my passion and make it a way of life that I enjoy very much. Presently, I am one of the owners of Tails of the Hunt Outfitters, along with Over the Shoulder Productions. I have to say a big thank you to Deer & Deer Hunting for their never-ending support and continued friendships. Follow along as we blog about our experiences and the fun we have throughout the year.
A.J. Young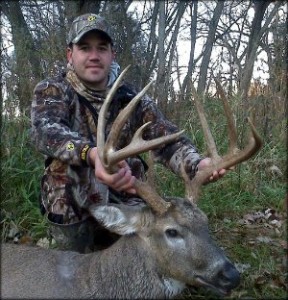 Born and raised in a small town in Southwest Iowa, I had the privilege to hunt and explore the family farm, or fish at our family cabin in Minnesota. From there I branched out to guiding duck hunts and heading west to elk hunt. But nothing fulfills my soul like chasing whitetails with a bow in hand back home in Iowa.
Austin Brandhof
I like whack n' stack giant bucks in my free time! I have been hunting and filming for Working Class Whitetails for several years. My dad, John, got me into hunting when I was young and has taught me a lot about the outdoors and being a good sportsman. My dad and uncle got me into watching Monster Buck videos and that started my obsession to hunt giant, mature bucks. I have been very fortunate to hunt some of Iowa's greatest hunting territories and shoot some giant bucks. I'm an Iowa State University student and also work for Heartland Co-op in the summer. I was born and raised on a farm and wouldn't have it any other way. My family farm has greatly influenced me in the way I live my life. I love being in the outdoors and hunt as much as possible. I started filming hunts after I saw the first Real Hunting DVD and after I met Toad. My best friend, Tyler Dahms, and I brought a camera along when we went late muzzleloader hunting. The second day of the season I connected with a 182 inch buck and caught it all on film. This sparked us to start filming all of our deer hunts and we've been doing it ever since.
Casey Goetz
My name is Casey Goetz, and I'm a 21 year old student at Wartburg College in Waverly, Iowa. At school I am majoring in Biology, and minoring in bow hunting big whitetail bucks. Coming from a non-hunting family, I started hitting the woods during high school. After learning from many mistakes and lost opportunities, I have finally started putting a string of big bucks into the dirt. My new goal is to take it to the next level and begin capturing my hunts on film. I have taken several photography and video production classes at school, and hope to transfer those skills to the treestand. Working around my school schedule and trying to keep my grades up while chasing big whitetail has been tough, but I'm finding that I am expanding and improving my skills as a bowhunter and camera man with every season that I continue to do so. I have future plans to study pediatric dentistry at the University of Iowa next year, and hope to harvest a couple of stud Iowa bucks along the way.
Collin King
I got started in the outdoors when I was very young, carrying ducks and pheasants for my dad and brother and slamming bobbers against the dock trying to make that perfect cast . Now that I am older, the passion for the outdoors has only grown, whether it be spending countless hours every year chasing whitetails in the Midwest, heading up north to Canada to hunt waterfowl, or even bowfishing in the summer. I am always doing something that gets me outside enjoying the outdoors.
Corey Gentry
Growing up in NW Missouri, I was introduced to hunting at a very early age. I grew up hunting with my father and uncle ever since I was able to carry a BB gun. I started bow hunting at the age of 16 and soon became addicted to chasing big mature whitetails with my bow. There's nothing that can compare to the adrenaline rush you get from bowhunting. I spend my free time chasing whitetails, turkeys and even canadian geese with my bow. I work as a graphic designer in Kansas City, MO. Spending time with my wife Lindsey and two kids, Kirra and Gage, are most important to me.
Dana Shultz
I was always destined to have an outdoor passion as I was raised in the outdoors my entire life. My dad Jay and grandpa Bob began taking me fishing at the age of 3, and my interest in all aspects of wildlife just snowballed from there. I quickly became interested in hunting ducks, pheasants and turkeys, but really became intrigued with whitetails after my first still hunt, where I harvested my first doe at 5 yards. My passion for wildlife extends year round in my management of habitat in their woods and native prairies. I worked with a forestry company while I attended college, and learned many techniques of how to make properties more attractive to wildlife. These skills melted right in with my outdoor hobbies. I began taxidermy at age 15 when I found my dad's books, and ever since I have spent countless hours studying wildlife anatomy and habits, perfecting my taxidermy skills. I run Twin Creek Taxidermy full time with my dad Jay, recreating sportsmens' trophies with an obsession for realistic taxidermy work. I have taken the Work'n Class Whitetails theme and applied it right back into the hunting world by working hard mounting others' trophies, and hunting hard to harvest a quality whitetail each fall.
Dave Ruiter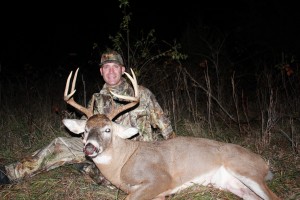 I grew up in Green Bay, Wisconsin in the midst of quality deer hunting but it wasn't until I attended college at UW-Platteville that I first tried deer hunting. It was in those Mississippi River bluffs of Southwestern Wisconsin that I was first smitten by the magical flight of the arrow when time seemed to stand still as the shaft sliced the air just beneath that first 8-pointer's chest! More than the lesson-learned of using the correct sight pin, that first bowhunt shattered the shell of my former urban existence to expose my adrenaline-addicted Predator true-self within. Over the years, a natural match between my hunting and photo/video/editing interests has developed to the point where I'm as thrilled now behind the camera, as I am being the hunter. I also enjoy the creative process of video editing to re-create the memories of hunts, especially those of youths and novice hunters including my two sons. My pursuit of these passions is always a balancing act, however, with my career as a US Army active duty Lieutenant Colonel. This profession has introduced me to worldwide cultures and ways of thinking, and has also offered some unique hunting opportunities along the way. I am currently assigned to Fort Leavenworth in Northeastern Kansas where I am responsible for the audio, visual and video-teleconferencing technology support of the US Army Command and General Staff College. "Waidmannsheil! (European hunters' saying of greetings, congratulations, or good luck.)"
David Fast
I grew up in the heartland of America in the Northwest corner of Missouri. When not in the woods or spending time with my wife, I spend my days working as a RT/CT Technologist at a Rural Community Hospital. I also spend much of my fall and winter running the football field and the basketball hard-court as a referee for the state of Missouri. I began hunting at a younger age with my father and brother. My brother was the first to take me day in day out during the Missouri firearms season. As I grew older I began taking friends with me to enjoy the outdoors, and eventually got into bow hunting. In 2007, I started doing a little filming for one of my fellow hunters and the rest is history. I hope that the knowledge I have learned over the last few years from some big names in the industry will help me bring you the best of my hunts and season in the upcoming years.
Jay Willenborg
I grew up in a rural community in west central Iowa and I'm currently working for Kenneth Janning and Sons installing terrazzo and tile. I have been hunting pheasants with my dad and brother since I was 5. I didn't start deer hunting until my cousin introduced me to it when I was 14 and was able to shoot my first buck that year. I started filming with working class whitetails about 6 years ago and have had some great memories in front and behind the camera. I looking forward to sharing everything that this deer season has in store.
Jay Shultz
I made the outdoor lifestyle my passion from day one. Since I was old enough to tag along with my dad, my life has centered around hunting, fishing, and managing wildlife. At the age of 14, I began my own taxidermy business which I continued through college. For 32 years, I have successfully run another small business, but I am currently in transition of returning to my original passion as the proud owner of Twin Creek Taxidermy. I began deer hunting in the 1970s, before compound bows and deer stands were part of the bowhunting world. In those early years of hunting, I used to climb trees and sit on tree limbs while bowhunting. I eventually began building my own deer stands and bought my first compound bow, with which I shot my first nice 8 point. Hunting in those early years instilled a passion for deer hunting that has never wavered, and created a drive that fits right in with the Workn' Class Whitetails philosophy.
Josh Dornbusch
Hi guys I'm Josh Dornbusch, a little bit about me. I work as a tool and die journeyman at Lisle Corporation. I come from a family that loves to hunt but mostly waterfowl an pheasants. I grew up chasing my dad around the CRP fields trying to bust down a Rooster before he shot it. My passion for hunting giant whitetails started in 1993 the year I moved to SW Iowa. I met a friend who was into bowhunting. It sounded fun an looked even more exciting. So when my dad asked me what I wanted for christmas I simply replied, Dad I want a Bow an Arrow! I think he thought I was crazy little did he know he was about to get me started in now what is my passion. About 5 years ago I wanted to try filming my hunts so that's when I teamed up with a buddy. It has been a heck of a ride I truly have experienced the highs and lows of bowhunting thus far. Looking forward to many more years of chasing these Iowa whitetails!
Josh McMillen
Born and raised in Northwest Missouri, I grew up chasing Midwest whitetails and gobblers with my father and two brothers. While I started out hunting whitetails with only a rifle, I soon developed a passion for bow hunting when I was a young teenager. I learned at an early age that the more one respects wildlife and their habitat, the greater they will reward you. By following this principle, I have been able to harvest several trophy bucks and toms. Today, I am focused primarily on hunting mature whitetail bucks, and the land management required to grow and hold those bucks. I feel very fortunate and blessed to have the opportunities and a job that allows me to put time in the field and work with Working Class Whitetails. I am also blessed to have my wife, Katie, who supports my hunting lifestyle and passion for the outdoors. I am currently employed as a police officer in Northwest Missouri.
Justin Davison
My name is Justin Davison and in this picture with me is my lovely wife Heidi. We had just finished up a long day of shed hunting and as you can see it was a pretty successful day. We live in SW Iowa. I am an assistant manager for a local Orscheln Farm & Home store. I found my love and passion for bow hunting back in 2000 when I took my first buck ever. I grew up in a family that didn't hunt much but dad would take us boys shotgun hunting with a group where we would do deer drives. That's really the only way I thought there was to hunt until I wanted more. I wanted to take a trophy buck and feel like I earned it by putting my time in the woods scouting. That's when I got introduced to bow hunting and was lucky enough to work with a guy who loved to bow hunt. he took the time to show me how to shoot a bow. That's all it took. I was hooked.
Justin Derga
I grew up in eastern Iowa bow hunting giant whitetails and turkey with dad since i was 10 years old. Now i am obsessed with learning, adapting, and hunting mature deer! With picking up a camera it has become an added challenge but has put dad and I in a stand together more than ever before. My career has taking me out of the state of Iowa to South Dakota where I am working for Habitat Forever. Managing land for wildlife has always been a dream job and with hard work that is exactly what i am doing. With all the hunting opportunities out here is was not a hard decision but I can not wait to draw an Iowa tag again.
Kevin Sturm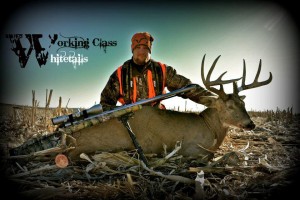 I am a Pro Staff member and editor for the Working Class Whitetails. I am a working class hunter, I work 40+ hours a week and balance work, family, hunting and filming to make it all work. I am a Continuous Improvement Technician at Pella Corporation in Carroll IA and I do some odd jobs on the side to make ends meet. I grew up in small town rural Iowa and hunting is more than a passion for me it is my life. Hunting for me started with my first gun, the old Red Rider BB gun and the rest is history. I started gun hunting deer at the age of 18 with my father, uncles and cousins it was more or less a rite of passage in our Family. I shot my first deer with a bow at age 20. I have been filming for the Working Class Whitetails for 6 years now and started editing this last year. I am excited to share my hunting mistakes, lessons and lumps with all of you!
Mark Ferman
Born and raised in the mountains of West Virginia, I have been chasing whitetails since I was in grade school.  Growing up hunting small game (squirrel and rabbit) quickly gave way to the thrill of being in the presence of the most sought after animal in North America – the whitetail deer.  After a few successes, I rapidly developed a passion for big bucks however; the older I got, I knew I had to leave the hills of West Virginia for the flat lands of the Midwest in order to quench my thirst for the large deer.  I have been very blessed to have taken some nice bucks in Wisconsin, Illinois, Kansas, Missouri, Ohio and Iowa.  In 2009, I relocated to Oklahoma, which now provides much closer access to the Monarchs of the Midwest.  Scouting, setting stands, planting food plots, is all part of the enjoyment of planning and taking a big buck.  When season is in, I travel seven hours one-way from central Oklahoma to the heart of the Midwest on a weekly basis, just for the opportunity to see and take a mature whitetail.  I am very glad to be part of the Working Class Whitetail team and look forward to sharing our successes and failures in our quest to take a giant whitetail.
Mike Humpal
I grew up in New Hampton, Iowa and have lived in Iowa nearly all my life. Having played football for The University of Iowa Hawkeyes and the Pittsburgh Steelers, I've been fortunate to learn from many great mentors. My dad and three older brothers are to blame for getting me into the outdoors and I can't thank them enough. Now, I've traded my falls on the football field for falls in the tree stand. Using the principles I learned from my mentors and applying them in my current pursuits of hunting mature whitetails, I have found many parallels in both passions. I've always approached life by putting 100% effort into my passions. With that comes great sacrifice and great rewards. What I love most about what I do is having the ability to enjoy life and spend it with the people and passions I care about the most…my family, my friends, and the outdoors.
Nick Davis
My name is Nick Davis and I am from Northwest Missouri. I am an average outdoorsman who spends much of the week tending to work and raising a beautiful family in Maryville, MO. When work hours are over, and chores at home have been completed, I spend my remaining hours resigned in the woods and waters. I began hunting by my dad's side ever since I could slip on a pair of boots and manage the tall grasses and woods for quail, pheasant, rabbits, and whitetails. My father has taught me nearly everything I know about hunting, and I am thankful he introduced me to God's wonderful creation. I believe the most inspiring thing about the outdoors is the challenge, the commitment, and the endless possibilities. Just when we as hunters think we have it figured out, new avenues and ideas arise. Chasing monster whitetails with a bow is my ultimate passion. If I had one weapon of choice, it would definitely be my bow. Nothing provides a more heart-pounding experience and offers more challenges than the ole' stick-n-string!
Pat Muellerleile
I started deer hunting about 35 years ago in Minnesota and Wisconsin with slug guns and rifles. I added archery to the mix in the early 80's. Wood riser bows and shooting with fingers has long disappeared for me but my passion for the sport continues to grow. I now hunt and film whitetails all over the Midwest but always come back to my old stomping grounds. I'm fortunate to be able to walk out my back door in Afton, Mn. and hunt for trophy whitetail. It was certainly a deciding factor for me when Sandy and I purchased the property. Sandy and I have a daughter named Cassie. She is a 14 year old special needs child who is the apple of our eye. We also have 4 pointers that I take up North grouse hunting and out to the Dakotas pheasant hunting 3 to 4 times a year. The hunting seasons are never long enough! Throw in 3 months of Ice fishing at LOTW, open water fishing in Ontario and tournament golf all summer and my plate is full. Sandy and I both work for a great company and hope to retire from 3M in 8 to 10 years. Maybe then there will be enough time to get my fill of the great outdoors! I look forward to continuing my association with WCW.
Ryan Bieneck
I grew up on the banks of the black river in central wi, and that is where my love for the outdoors started. As a kid i spent alot of time hunting and fishing with my dad and family and every year that passion for the outdoors and hunting grows stronger. I run a small buissnes called black river hardwoods where I create and build furniture and cabinets, i also use my passion for the outdoors by creating woodworking for a few local taxidermist. When im not busy with that im spending time with my wife and  3 children and of course out chasin whitetails ! When im not in the tree after a big whitetail I enjoy planting and creating foodplots, trail cams, and shed hunting.
Ryan Welch
I'm an active duty Army Aviator.  When not flying or leading Soldiers, I take every opportunity to hit the woods.   I literally have no other true love than my family and hunting.  I come from a long line of deer hunting tradition, mostly in the big woods of Maine, New Hampshire and Vermont.  Throughout my travels with the military, I've taken advantage of chasing Whitetail deer, elk and turkeys at every turn.  I've had the privilege of chasing critters from New England to Alabama, Texas to Wyoming, Tennessee, Kentucky and my favorite, Kansas.  I've been hunting now for over 25 years and filming for the last 5.  Like the rest of the crew, I balance work, family and my passion for the outdoors in between deployments to various hotspots overseas.  I work hard in the off season scouting and hanging stands to maximize my limited time in the woods.  I love the challenge of the hunt and the good friends I've met in pursuit of game.  I am currently stationed in Kansas, so I make as much time available to get after Sunflower state and Missouri Whitetails as humanly possible.
Steve Marriott
Born and raised in northwest Missouri, I grew up in a small town where people talk about two things, hunting and sports, which are both a big part of who i am today. Some of my earliest and most fond memories are hunting and fishing with my dad. At a young age he taught me the fundamentals of shooting guns and my personal favorite the bow and arrow. Using these skills i was able to harvest my first deer with a bow at age 12, and he was there for many more including my first wall hanger! I have my father to thank for my love for the outdoors and the drive to get up early every chance i get during hunting season with the camera and capture that special moment we all strive for.
Steve Tjornhom
Born in raised in Minnesota, I am one of the old timers in the group. I have been hunting now for some thirty years and filming for eight. I'm an owner of a concrete and asphalt company along with my brother. I run hard from March thru October, but come November I have some time to get into the stand and pursue my favorite big game animal, the Whitetail. Now that my daughter is in college and my son is serving our country in the 82nd Airborne, my wife has been outstanding in her support for the pursuit of my passion, filming big Whitetails! I have had the opportunity to hunt all over the Midwest but I spend as much time as I can in Iowa and Missouri hunting with my friend of many years Aaron Volkmar at Tails of The Hunt. Whether I'm scouting, planting food plots, checking trail cameras, or running my business, I work hard to be successful but I especially work hard when it comes to filming hunts. I look forward to trying to bring these hunts back to the viewer whenever I can.
Tyler Till
I grew up in Indianola, Iowa on a small farm. When I was growing up, if I wasn't playing sports, I was outside in the woods. My first real deer hunting experience came about ten years ago with the "Antler Society" (this is what our first season shotgun group calls ourselves). My dad started going with a few friends back in the 70's and it has grown to over 20 hunters and every one's family. Even though he is not a big hunter, my dad is the one who got me started in being in the outdoors and hunting. This is obvious because he is left handed and I am right handed. However, I shoot a gun and bow left handed.  I graduated from Iowa State University in May 2012 with a double major in Agricultural Studies and Environmental Studies. Now, I work as a guide and land manager for Tails of the Hunt Outfitters and I am a distributor for Boss Buck hunting blinds and feeders. I have also been in the Iowa National Guard in the Infantry for over years. There is nothing better then being able to be in a tree stand with my brother Corey and filming each others hunts.